Nearly six months after launch, Mac Studio continues to face significant delays on Apple's website, with M1 Ultra configurations facing up to a 10-week delay.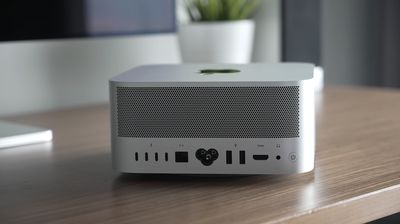 The base ‌Mac Studio‌ with the M1 Max chip is estimated to ship in one to three weeks, depending on specific storage and memory options. Customers looking to get their hands on the more powerful ‌M1 Ultra‌ chip will have to wait at least seven weeks for the standard option with a 48-core GPU and up to 10 weeks for the 64-core GPU option.
The ‌Mac Studio‌, despite being a high-end product that starts at $1999, has been in high demand since its release in March 2022. The ‌Mac Studio‌ is a hybrid between a Mac mini and a Mac Pro, offering users customers a comprehensive port layout in a compact design with powerful performance.
Along with ‌Mac Studio‌ is the Studio Display, an external monitor that customers can use with any Mac. Apple markets the ‌Mac Studio‌ and Studio Display as the ideal professional Mac workspace powered by Apple silicon. The Studio Display with a tilt and height adjustable stand is delayed by around 3-4 weeks.
Other Macs in Apple's lineup continue to be available for purchase without significant delays aside from specific 24-inch iMac configurations, which are listed in 3-4 weeks.
related stories
Mac Studio and Studio Display Preorders Now Available
Apple today introduced the Mac Studio, an all-new Mac that is a cross between a Mac Pro and a Mac mini, with the new machine powered by M1 Max and M1 Ultra chips. Starting at $1,999 for the M1 Max version and $3,999 for the M1 Ultra version, Mac Studio can now be ordered from Apple's website. Along with the Mac Studio, Apple introduced the new 27-inch 5K Studio Display, which…
Apple announces powerful 'Mac Studio' with M1 Ultra chip and companion 'Studio Display'
Apple today announced at its "Peek Performance" event a new Mac Studio desktop with a companion Studio Display monitor. With a 3.7-inch-tall case, the Mac Studio looks like a larger Mac mini, but it's much more powerful. The computer can be configured with the same M1 Max chip found in the 14-inch and 16-inch MacBook Pro or the newly announced M1 Ultra chip, which features a…
Lucky customer receives Mac Studio days ahead of schedule
Mac Studio won't launch until Friday March 18, but a French Apple fan was able to secure his new machine today due to a bug in the store. As reported to Mac4Ever, the customer was given the early Mac Studio by an anonymous shop, and he shared an early photo of the new device. According to Mac4Ever, the client, Simon, will provide additional photos of the Mac Studio later today, but…
Studio Display shipping estimates have improved significantly
Four months after Apple released the Studio Display, shipping estimates for the display finally show significant improvement in many countries. While the Studio Display was estimated to ship in 8-10 weeks from May and 6-8 weeks from June, Apple's online store now shows a much shorter delivery estimate of 1-2 weeks for new orders in the United States. These deadlines apply to…
Gurman: 'Mac Studio' Mac Mini/Mac Pro Hybrid and New A-Series Chip Display Are 'Ready to Go'
Apple could unveil a new "Mac Studio" machine and a new screen running iOS at the March 8 event, according to a breaking confirmation from Bloomberg's Mark Gurman. In a tweet, Gurman says that Mac Studio and a "new iOS monitor are 'ready to go' and will likely debut tomorrow." Earlier today, YouTuber Luke Miani shared renders of what he claims is "Mac Studio." ..
Apple execs talk about how Mac Studio bridges the gap between iMac and Mac Pro
Apple's new Mac Studio desktop computer will start rolling out to customers this Friday. Ahead of the launch, TechCrunch's Matthew Panzarino spoke with a trio of senior Apple employees about the company's Mac Studio design process. Like the Mac Pro tower released in late 2019, Mac Studio was born as a result of Apple's Pro Workflows team that was created shortly after the…
popular stories
Camera updates for all iPhone 14 models: Everything we know
The iPhone 14 and iPhone 14 Pro models are rumored to feature several major camera upgrades. Unlike rumors of color options, reports about upcoming iPhone camera tech tend to be fairly accurate, with camera component supply chains often revealing specific information well in advance of a device's release date. . Rendering of the iPhone 14 concept by Ian Zelbo based on alleged information leaked in…
Featured Stories: iPhone 14 event scheduled for September 7, iOS 16 Beta 6, and more
It's not entirely official, but it looks like we finally have a date for the big iPhone 14 event, so mark your calendars and read up on what we might see at the event. This week also saw the release of a sixth beta version of iOS 16 with ongoing tweaks as Apple begins to lock things down ahead of the iPhone event and the public release of iOS 16 next month. iPadOS 16 and macOS Ventura probably…
Apple criticized for its 'fundamentally flawed' approach to stage manager in iPadOS 16
Stage Manager in the iPadOS 16 beta is receiving heavy criticism for being "fundamentally wrong" in its approach to bringing a new level of multitasking to the iPad experience, with some even calling on Apple to delay the feature altogether due to its flaws. deficiencies. Federico Viticci, founder and editor-in-chief of MacStories and a leading member of the Apple community, described his…
TikTok's in-app browser reportedly capable of monitoring anything you type
The custom browser in TikTok's iOS app reportedly injects JavaScript code into external websites that allows TikTok to monitor "all keyboard input and touches" as a user interacts with a given website, according to researcher security Felix Krause, but TikTok has denied this. the code is used for malicious reasons. Krause said TikTok's in-app browser "subscribes" to everyone…
Copycat iOS Launcher on Android exceeds 50 million downloads
A popular launcher on the Google Play Store that seeks to recreate the iOS experience on Android smartphones has surpassed 50 million downloads as it is updated with design changes and features coming to iPhone with iOS 16. The app is not new. on the Google Play Store and has been recreating the iOS experience on Android for the last three years. As of iOS 13 and for each…
PSA: Safari security flaw 'actively exploited', update your Apple devices now
This week, Apple released critical software updates for Safari that fix a security flaw that exists in the browser on the iPhone, iPad, and Mac platforms. Here's what you need to know. Specifically, the platform-wide fix is ​​for a vulnerability in Safari's WebKit engine that Apple believes hackers may have "actively exploited" in the wild. The flaw, according to Apple, could…
Apple plans to hold an iPhone 14 event on September 7
Apple is aiming to hold its first fall event on Wednesday, September 7, reports Mark Gurman of Bloomberg. The event will focus on the iPhone 14 and Apple Watch Series 8 models. The standard iPhone 14 models are expected to receive few changes, but the iPhone 14 Pro models will include updated camera technology, the removal of the notch in favor of a pill Cutout in the form of a hole punch, an A16…